Add to wishlist
Added to wishlist
Removed from wishlist
0
Add to compare
Central location
Great wine list
Open and spacious
Amazing food
Chim Choo Ree restaurant menu may have been a touch pricey, but the food was beautifully presented, tasted amazing and we enjoyed it with an equally fine wine. Tables were designed to fit four so as a couple we felt a little far away from each other. Some tables have a river view. Love the art deco flair of the restaurant.
The main menu is a la carte and features great vegetarian options as well as catering for most dietary requirements including gluten intolerance.
Located at The Brewery Building, 14 Anzac Parade in Hamilton and a nice walk along the river from almost anywhere central, Chim-Choo-Ree specialises in NZ/European styled cuisine. Apparently this restaurant is named after a bird – the Chim Choo Ree
The overall stylish location and spacious premises that the restaurant is housed in are well designed and decorated. The brewery building is a standalone space, but oddly the restaurant shares the space within the building with another business.
Although there isn't much information available for Chimchooree on their website, they have clearly been around since 2011 in Hamilton, and are an amazing destination for fine dining from 5pm Monday to Saturday.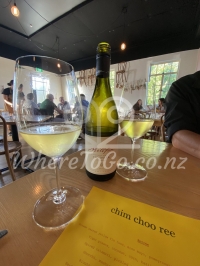 Central location
Great wine list
Open and spacious
Amazing food
Chim Choo Ree Menu
Chimchooree Dinner Menu
Entree
beef tartare, sesame mayo, soy mirin caviar, pickled daikon, sesame tuile
butternut & goats cheese tortellini, spinach veloute, smoked almond foam, parmesan crisp, lemon caviar
prawn & crab rillette, garlic brioche, avocado puree, basil cracker, pickled fennel & cucumber, horse radish cream, lime oil
roast baby carrot, maple glazed tofu, hummus, black olive mayo, roast almond, truffle oil
scallop & razor clam, vermouth cream sauce, oyster mushroom, edamame bean, pancetta, seasoned laver, dill lemon oil
Main
venison, parmesan barley risotto, eggplant puree, sauteed kale, pomegranate, parsley oil
eye fillet, blue cheese potato, baby carrot, cauliflower, potato chip, braised short rib
duck breast, confit duck leg & tenderloin, fennel puree,confit onion, mushroom, tomato chutney, duck jus
lamb rack, smoked feta, carrot puree, black garlic jus, seasonal greens, lamb belly, capsicum chutney
snapper, leek confit, lemon cream pasta, prawn & calamari fish cake, pickled cucumber, seasonal greens
parsnip, spinach & mushroom wellington, mint pea puree, smoked feta, pickled fig, caramelised pinenut, potato & zucchini croquette
crisp gnocchi with polenta crumble, whisky cream, brussels sprout, oyster mushroom, sun-dried tomato, roasted hazelnut, goats cheese
Sides
focaccia bread, garlic & chive butter
shoestring fries
green beans
Chimchooree Dessert Menu
Pudding
earl grey pudding
Dried Raspberry, Whole meal Crumb, Lime Sherbet, Strawberry Lime Ice Cream
kumara meringue
Pistachio Cream, Vanilla Ice Cream
pistachio panna-cotta
Raspberry Granita, Quinoa Crumb, Caramelised Pumpkin Seed
blueberry bread and butter pudding
Roasted White Chocolate, Blueberry Puree, Roasted Almonds, Vanilla Ice Cream
brownie chocolate yule log
Caramelised Hazelnuts, Chocolate Ganache, Chocolate Soil, Chantilly Cream
affogato
Espresso Shot, Ice Cream, One Choice of Liquor, Frangelico, Baileys, Drambuie, Disaronno
Cheese
small
large
Smidgen of Cheese, Pick One
blue d'auvergne
Bleu D'Auvergne is creamy ivory colour, dotted with blue-green mould due to the Penicillium roqueforti, which gives the cheese its typical bluish-green veins.
comte young
Comté cheese paste is firm and supple and melts in the mouth, leaving a sweet taste. The salt is strong but balanced and the flavour has a nutty tang.
fromager affinois a la coupe
Mild and buttery, it is an amazing addition to the Brie world. It's produced from milk that has been specially filtered to break down some of the fat content; yielding a lighter, smoother, silkier texture than other Brie.

Chim Choo Ree Restaurant – Hamilton